26.05.2022
The first regional e-commerce web platform – "ecommerce4all.eu" was launched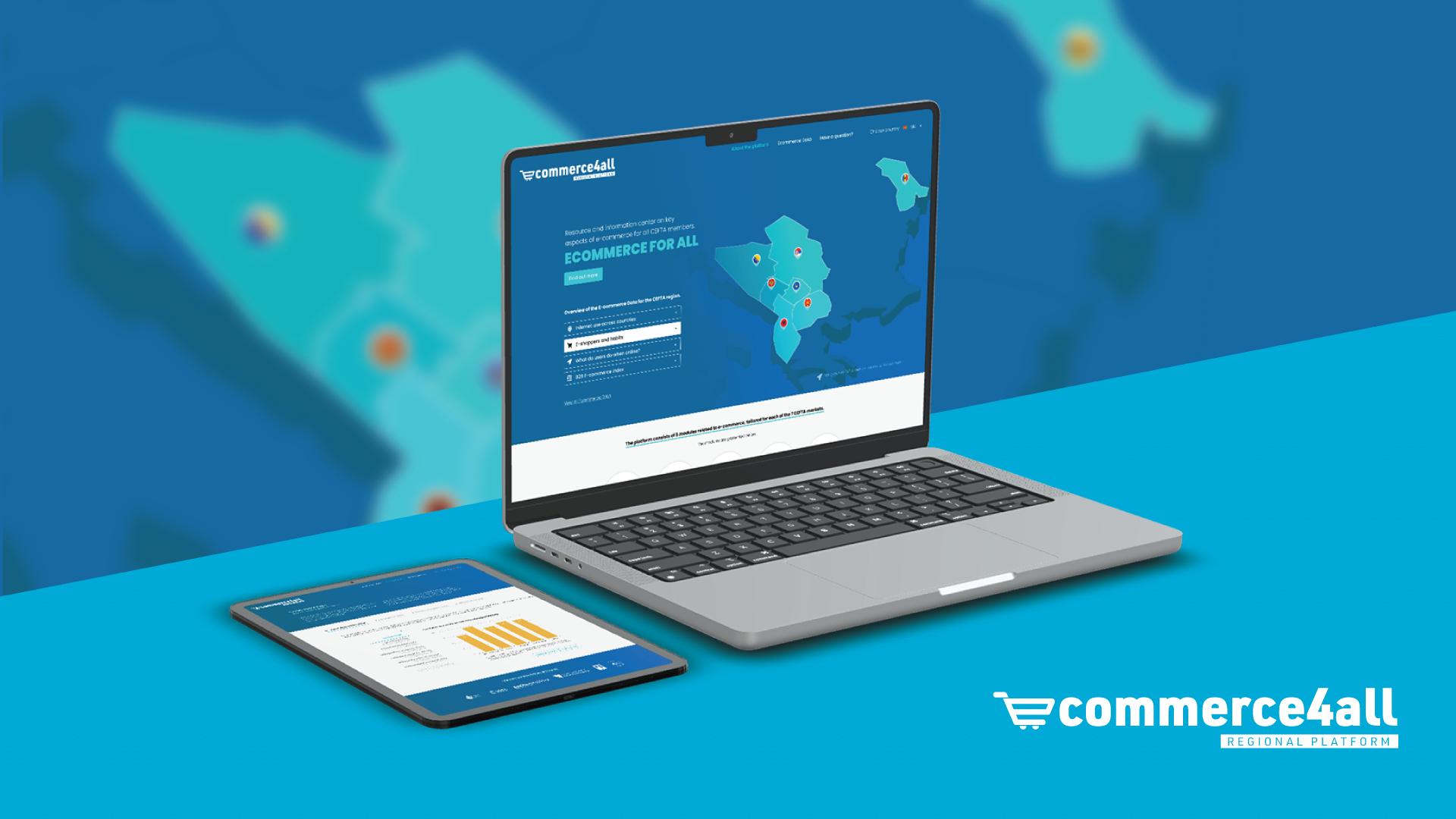 Compared to the countries of the Western Balkans, Kosovo is behind Serbia, but before 
North Macedonia, Bosnia and Herzegovina and Montenegro in percentage of the population that  does online shopping. Compared to neighboring countries, Kosovo ranks first in Europe or 77% of online shoppers buy clothes online, followed by Montenegro with 71%, while North Macedonia with 57%, BiH with 56% and Serbia with 52% are below the European average. Profit tax as a percentage of commercial profit is highest in Albania – 14.1%, and lowest in Montenegro – 8.3%, while time required for export and import of products is shortest in Moldova.
These and many other business facts and information related to running an e-commerce business as of today are officially available on the first regional e-commerce platform "E-commerce for all" –
ecommerce4all.eu
. 
The regional web platform is developed by the Macedonian E-Commerce Association as a main implementer in cooperation with the e-commerce associations аnd organizations from related industries from CEFTA, or to be more precise with the following partners from Albania: Chamber of Commerce and Industry in Tirana (CCIT) and Albanian eCommerce Association, from Bosnia and Herzegovina:Bosnia and Herzegovina e-Commerce Association and BiH eComm Association, from Kosovo: Kosovo ICT Association (STIKK), from Moldova: American Chamber of Commerce in Moldova, from Montenegro: Chamber of Economy in Montenegro, and from Serbia: E-commerce Association of Serbia.
The platform, which is a regional expansion of the Macedonian initiative "Ecommerce4All", from today will be available in Serbia, Bosnia and Herzegovina, Albania, Kosovo, Montenegro and Moldova.
Users from the region will be able to use the regional e-commerce web platform –  ecommerce4all.eu for free, out of which the first of the five modules is already available – "E-commerce Data" module. The module presents the state of e-commerce in the CEFTA markets through statistics and other data (interactive graphs of the state of e-commerce in each market and comparisons of e-shoppers, UNCTAD e-readiness index – commerce and other relevant data from Eurostat, World Bank, etc. ), information related to countries' preparedness to conduct e-commerce business, information on how often, how much and where do shoppers buy online, etc. This data can help companies improve their operations in their local markets, but more importantly, it can serve their plans to expand to other markets in the CEFTA region.
In addition to this module, the platform will be upgraded with four more modules in the future. Of all these, the first three modules cover key aspects of doing business in e-commerce, such as regulation, e-payments and delivery. Additionally, the platform will be enriched with another additional module – success stories from each market. Each of these modules will contain relevant information specific to each of CEFTA markets respectively, as well as tutorials, manuals, topic related documents and video presentations.
The web platform is available in English and local language for each market.
"The development of this web platform is of great importance for e-commerce, for the involved organizations and for the regional cooperation between the CEFTA markets. E-sellers can find out important business facts and relevant information for all markets in the region, which they can use to expand their businesses beyond their own market. In addition to the fact that they have already started to cooperate with each other, the organizations in the region that work on the web platform will be able to establish themselves as the "voice of e-commerce" in their markets, but also regionally." says the project manager of this project,  Marija Ristovska.
The development of the platform "Ecommerce4All" is supported by the Open Regional Fund Foreign Trade project implemented by Deutsche Gesellschaft für Internationale Zusammenarbeit (GIZ) on behalf of the European Union and the German Federal Ministry for Economic Cooperation and Development (BMZ). The main goal is to improve international cooperation that promotes regional and local economic development and supports the autonomous implementation of EU-aligned policies aimed at balancing the country's regional development. The Fund aims at improving the implementation of the reform agenda for trade and competitiveness in the CEFTA region in line with the requirements of the EU approximation process.
Find out more about e-commerce in the region at: ecommerce4all.eu.