STIKK represents the companies that are determining the technology developments, which are shaping the future of our world..
Enver Maloku, Hoxha 2, Prishtinë, Kosovë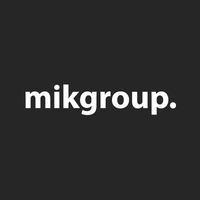 Member of Bronztë
Profile
mikgroup. is an online marketing company that is based on the current era of digital media and changing new-generation consumer habits. That being the case, mikgroup. supports clients in making the best possible use of new marketing opportunities to reinforce their role in the market. Our core competence is to position the brand in the online marketplace. From strategy to graphic design, web consulting, e-commerce, search engine optimization (SEO), influencer marketing and social media marketing, we develop professional solutions from a single source. In the interest of the customer, we strive to increase success factors such as "increase profits", "increase attractiveness" and "added brand value". The value of the mikgroup. lies in proven workflows through technological expertise, strategic thinking skills and creative talent to deliver solutions that can be integrated into digital services. Our need in the current media age places us high on the learning trajectory. Therefore, the five strategic areas of our business are also clearly targeted:
– mixer. focuses on uncompromising and exclusively on the best possible customer solutions in the field of search engine marketing and search engine optimization (SEM / SEO)
– mikweb. combines strategy, knowledge, technology and ingenuity to develop and implement relevant web concepts.
– mikbrand. focuses on positioning your company and brand.
– friend. offers access through its partners to 20,000 micro-influencers in German-speaking countries.
– mikorm. conducts professional online reputation management campaigns for companies in Switzerland and those who want to protect themselves.
– mikgroup. it incorporates adaptation and innovation, and helps clients grow, delivering a better experience and greater results each time.
Other details
Company services:

Brand Identity Development, Brand Management, Graphic Design Services, Mobile Application Development, Project Engineering, Project Management, Search Engine Optimization and Marketing, Social Media Services, Software Development, Technical Support, Training & Education, Web Development and Design, Web Hosting and Domain Services, Web Site Maintenance

Year of foundation:

2012

Number of employees:

0-10

Company products:

Web Hosting